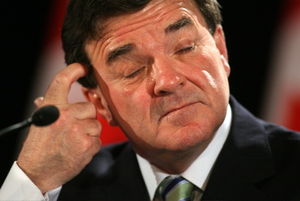 Sorry, I couldn't resist. I just see and hear a similarity between Costello and Flaherty.
I mean, just how many times can one man be wrong? In Costello's case, there are few ramifications and those that occur are funny. Flaherty? Not so much. His black comedy is playing out over the nation after all.
In his latest fiscal projections, obtained by Canwest News Service, budget officer Kevin Page said the combined federal deficits that began last year will total $159.3 billion by 2014 — a hole much deeper than the current predictions of $103.5 billion from the Finance Department.

Moreover, while the Finance Department still predicts a small surplus by 2014, Page predicted the government will be running a deficit of nearly $17 billion that year, of which $11.9 billion will be a "structural" or permanent deficit, one that would keep on piling up debt year after year.

"The budget is not structurally balanced over the medium term," said Page's report, to be officially released Wednesday.
The Finance Department is predicting a small surplus? Surplus? Really?
Look, I'm sure the people at Finance are doing their very best, but really, does anyone think that maybe, just maybe, they are a bit constrained in what they can report? I mean, we've seen any number of stories that suggest the public service has been pushed back or worse, ignored, in order to get the Conservative line out there. Why would Finance be any different?
If that's the case, I feel for them and their integrity. Remember, if the Liberals win next time out, we're the party that will have to pick up the pieces, including the confidence of these people. No small task.
Much has been written today about this report. I'll leave it to you to
read
about it.
The one thing that stands out for me though, is just how
not
forthcoming the government is with a plan to get us out of this. I mean seriously...Flaherty keeps touting that it will just happen...poof, like magic!
"To argue now that these deficits will suddenly disappear with the return of the economy is simply not going to be true. (Flaherty) is going to have to address revenue-raising," said McKay.
Furthermore, there is a grand pile on as it relates to Ignatieff not putting out policy. Why? I'm not sure because anyone with a brain can see how little sense that makes.
I wonder though, when will it occur to the pundits that the government, our government, has not only
not
articulated theirs, but they appear to have
none
?
Perhaps they are still busy working out the w
ho's on first
riddle?